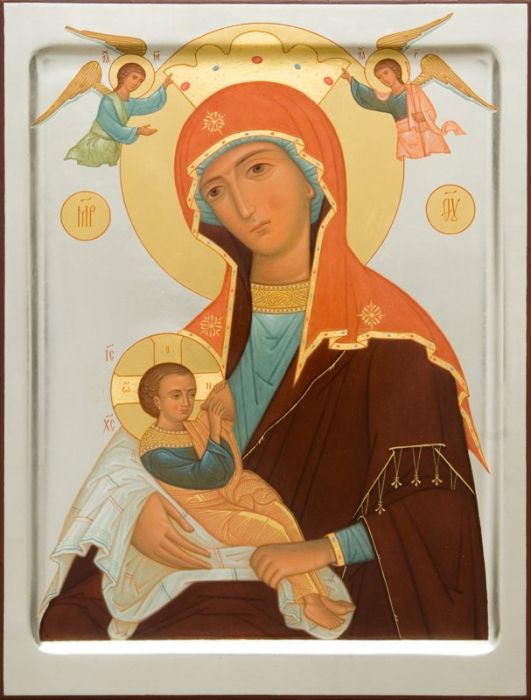 (Wendy Cabell, January 12, 2022, Sixth day of the Afterfeast of Theophany (new birth), and feast day of the (above)
Milkgiver Icon of the Mother of God, the Akathist (saved from fire; synch. w/ Mark 1: 29-39) Icon of the Mother of God and other
Icons
of the Mother of God, o
f Saint
Caesaria
of
Arles
, Saint
Benedict
Biscop
, Saint
Tatiana
of Rome, Saint
Eupraxia
of Tabenna, and Saint
Sava
of Serbia. Chasidic Holiday of
Yud
Shevat. Image from here.)
Doorhinge
(for Saint Caesaria of Arles on her feast day)
Being delivered from the hand of our enemies

…direct our feet into the way of peace

–from Luke 1: 73, 79
Open handed Saint
hidden, but still
the held book,
warm page, Book of Hours from
your hand to mine (though deeper still the
simple prayer of
help me, mercy!), the
Sign of Cross made
over all things. The telling
time by proximity to holy hour or feast day, not
clock's tock. Psalms, chants forming radio, on now in
this inner cloister, reaching–
that our hands may touch, and find
objects to prop open the door: illuminations,
embroidery, gathering eggs from the hens. Translated
here to pen and glue, to bakeries. Nurture garnered by same
candlelight, same attention to dreams as arise, with a
thank you for (then commending of) this soul. As touch these
walls and know that they will serve till we are Home. Home being
also who with, as in Mary (is She not our Mother?) Does
She not echo (voice and hand) as bless this room,
Bless this light,
this tea, this tongue.
This hour. A humm for
Church bells will have to do, taking from Bee their cue, as with
Butterfly and Breeze we
begin.
*From combined prompts: Freewrite as inspired by the etymology/concept of open, by Michelle Menting's Objects Used to Prop Open a Window, and by Alan Felsenthal's Open Openly. From Lisa Freedman's BreatheReadWrite, January 12, 2022. The Bee, Butterfly and Breeze is of course from The ending lines of course owe to Emily DIckenson's
In the name of the Bee —
And of the Butterfly —
And of the Breeze — Amen!